(a.k.a. Ben Armstrong… or was it the other way around?? )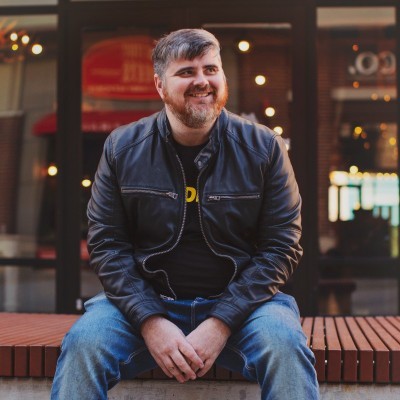 " Welcome to BitBoy Crypto! The largest crypto channel in all the Interwebs. My name is Ben." – B. A.
Crypto Influencer and Entrepreneur
around $10 million (as of May 2021)
If you've ever heard those words, then you probably have a glimpse of an idea to whom we're gonna dedicate today's article. If you haven't though – don't you worry, we're gonna get you up to speed shortly.
BitBoy Crypto's real name is Ben Armstrong. He's a cryptocurrency content creator and a blockchain enthusiast. His crypto-journey began back in 2012, from his first Bitcoin investment, and since then he's made himself a name, to put it mildly. 
In 2018, Armstrong ended up becoming a crypto analyst and commentator full-time. Nowadays, Armstrong has become one of the largest crypto social media personalities on the scene. His BitBoy Crypto YouTube channel currently has over 1.04 million subscribers, which makes it one of the largest crypto channels out there.
BitBoy was first introduced to the world of cryptocurrency and blockchain technology in the year 2012. After researching on his own, Armstrong eventually decided to put his money into his Bitcoins' set. Long story short – one thing led to another, and before he knew it, Armstrong was making decent returns from his investment.
Ben was already interested in Bitcoin when it first burst into the picture in 2009 (wish I was that discerning!), although it took him a couple of years to actually get to investing. After recalling he had some leftovers of BTC in his account, a year later BitBoy returned to the wallet and found that his small stash had grown to $3000.
There came the point when Armstrong felt as if he was unstoppable, sort of "the real Mccoy" of the biz. However, some unfortunate event took place, ruining his plans and totally crumbling his portfolio – he lost his Bitcoin holdings in the infamous Mt. Gox hack.
In 2018, Ben decided to use all of his well-absorbed knowledge and personal experience in order to help others. Therefore, he went "full-time crypto-enthusiast", "investing" all of his energy and time on expanding the reach of crypto and guiding newcomers along the way. And since his first venture didn't work in his favor, due to the fact of him being hacked – he decided that he could use this negative experience to help others learn from his mistakes in cryptocurrency and the markets.
Quite rapidly his main focus of interest shifted from Bitcoin to Altcoins.
In January of 2018 BitBoy founded the BitBoy Crypto YouTube channel – his main business venture, that actually made him famous. As of the time this article is written, the channel has over 1.04 million subscribers. Almost every single day new content is uploaded with a strong focus on all crypto-related aspects and particularities, including urgent news, AltCoin analysis, interviews, and market prognosis.  
" Outside of my kids and my wife, I've never been so proud of anything in my whole life." – Ben said, the day his channel grew to 1 million subscribers.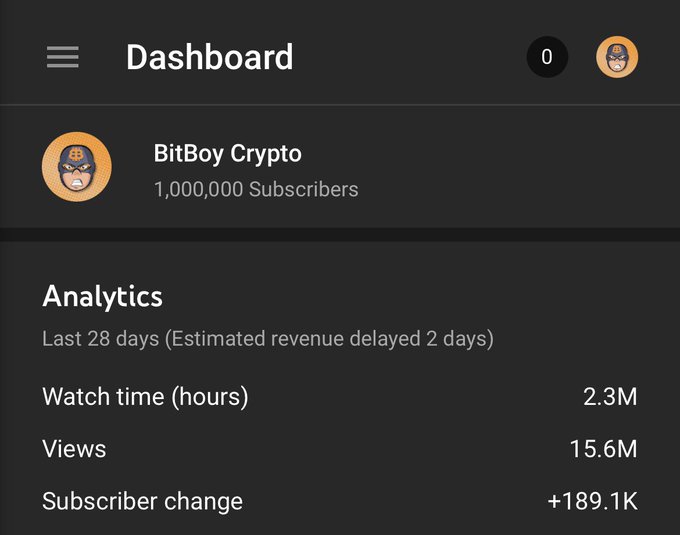 This screenshot as of May 14, 2021. A week after (when this article is being written) the channel gained additional 400K subs.
Ben also has a BitBoy Crypto News Website – a platform that sort of backs up what's being said in videos and also publishes exclusive content as well, shedding a glim of light on new perspectives on the ever-evolving crypto scene. 
BitBoy Crypto News provides all kinds of insights, such as reviews of popular platforms and wallets, daily crypto forecasts, regarding price changes, and opinions on new trendy Altcoins. By joining the email list, you can become a member of the BitSquad, and gain access to a monthly newsletter containing exclusive crypto content and promotions.
After gaining a lot of praise and overall success with his channel, Ben had decided to expand his activity onto a couple of different types of media, thus for some time (before it got closed down) he's been hosting his own podcast named "Beards & Bitcoins".
In 2018 BitBoy teamed up with JChains (that other guy with a gorgeous beard) and formed the podcast Beards & Bitcoins. The two met up at some local crypto conference in Chicago and quickly realized that their mutual interest they've learned to have in common, could be of use to a whole bunch of crypto-enthusiasts as well. Thus, what started as a joke, initially was turned into reality with their first show airing around two weeks after that meeting.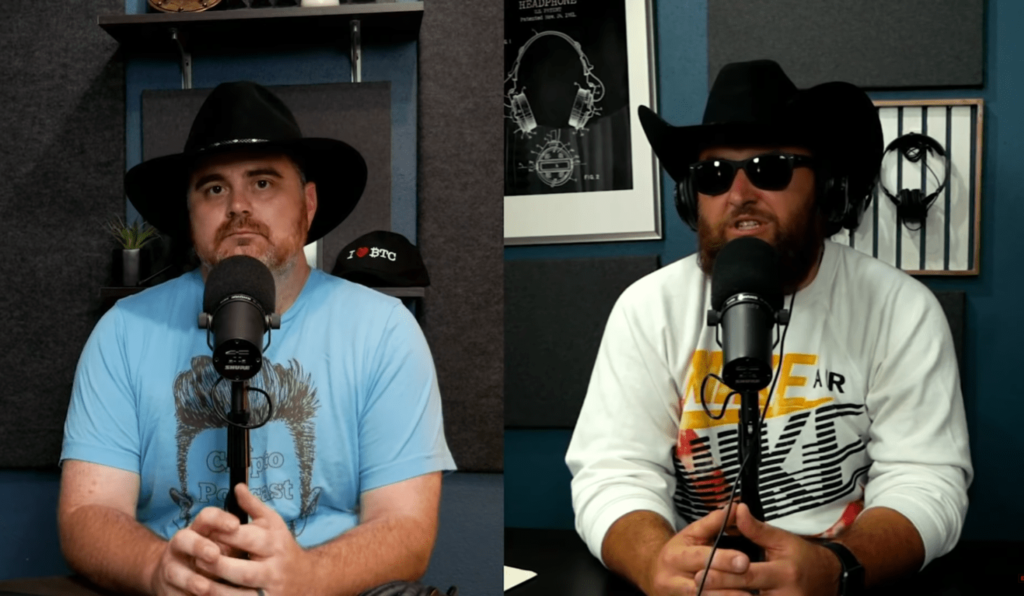 "THEY ARE JUST TWO DUDES, WITH NICE BEARDS AND A LOVE FOR BITCOIN… AND THE CRYPTO COMMUNITY." – Ben Armstrong on his "Beards and Bitcoins" podcast.
Unfortunately, last year the podcast came to an end, and on November 5th, 2020 their last episode was aired, in which Ben thoroughly explained that decision. 
As an OG crypto enthusiast, Ben never skips the opportunities to reach new audiences, always seeking new avenues and possible directions. Therefore, his other activities include regular featuring on podcast "New Money Gang" and Youtube channel "HIT NETWORK", both of which are dedicated to the world of crypto (you don't say).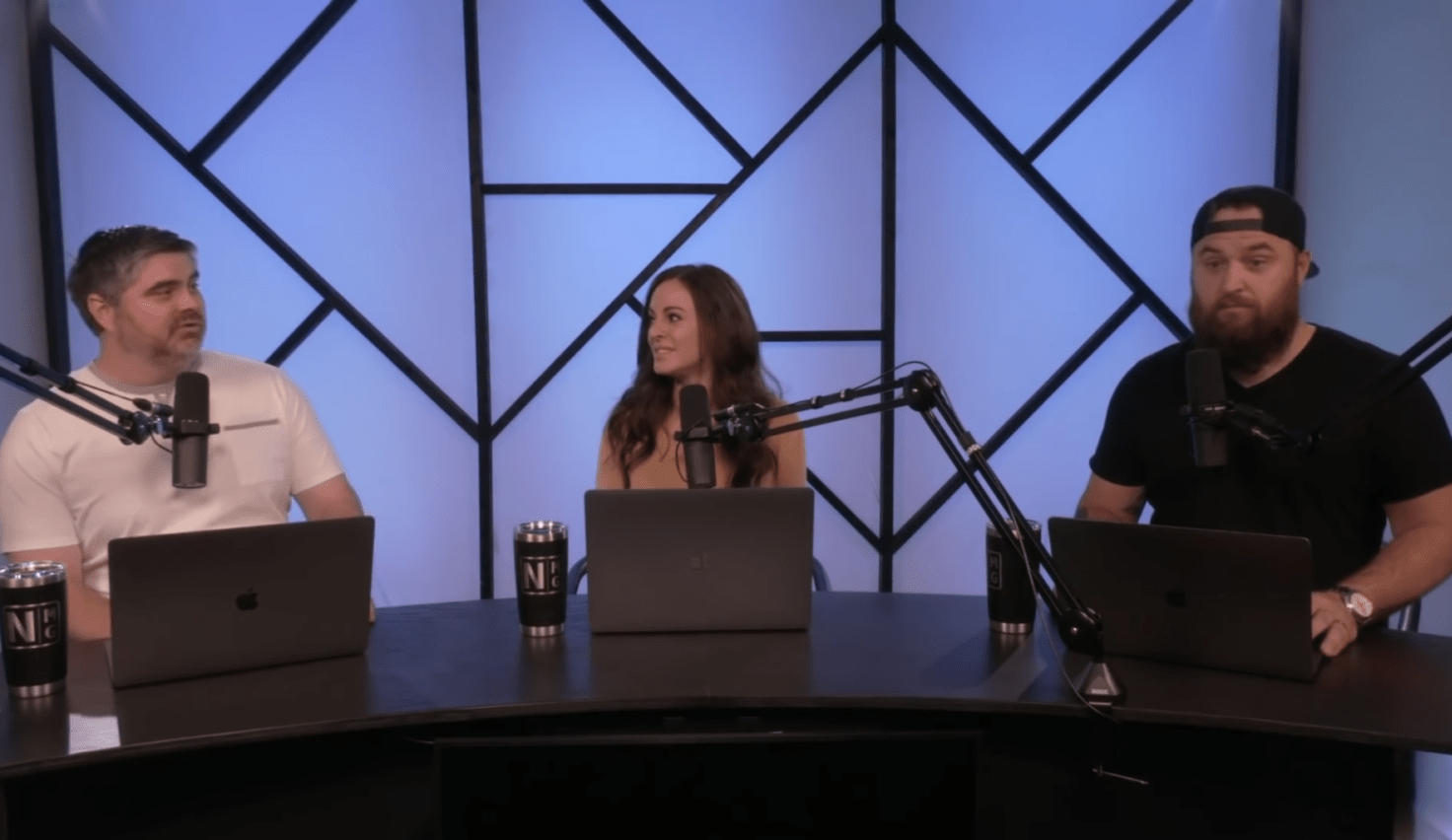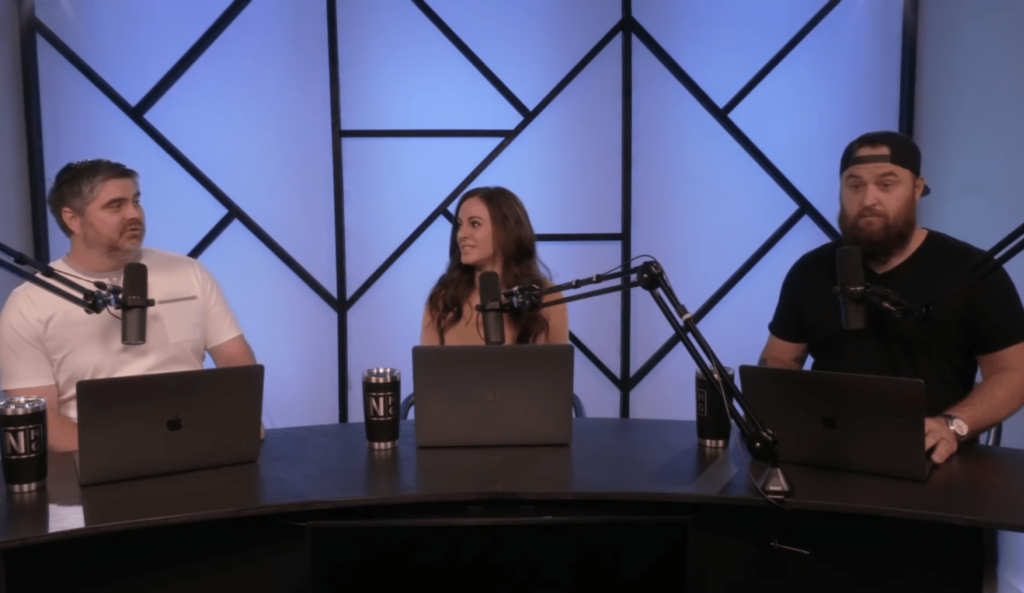 New Money Gang is said to be "….a podcast all about next-generation money-making strategies. Join us as we navigate through proven strategies to create wealth in this new, digital age."
On the Hit Network channel, viewers are allowed to slip through the curtains of the BitBoy Crypto channel. Thus, Hit Network mainly consists of BTS view, focusing on the lives of all those involved in making the channel the way it is.
It includes less scripted, more off-the-cuff, get-to-the-point analysis, various Altcoins discussions, which tokens' prices may rise or fall, personal finance, digital marketing, and all sorts of other related topics.
Ben & his team position their channel as "a conglomerate of creators and shows that seek to entertain and educate around trending topics such as how to make money online, cryptocurrency, gaming, daily vlogs, outdoor living, and sports".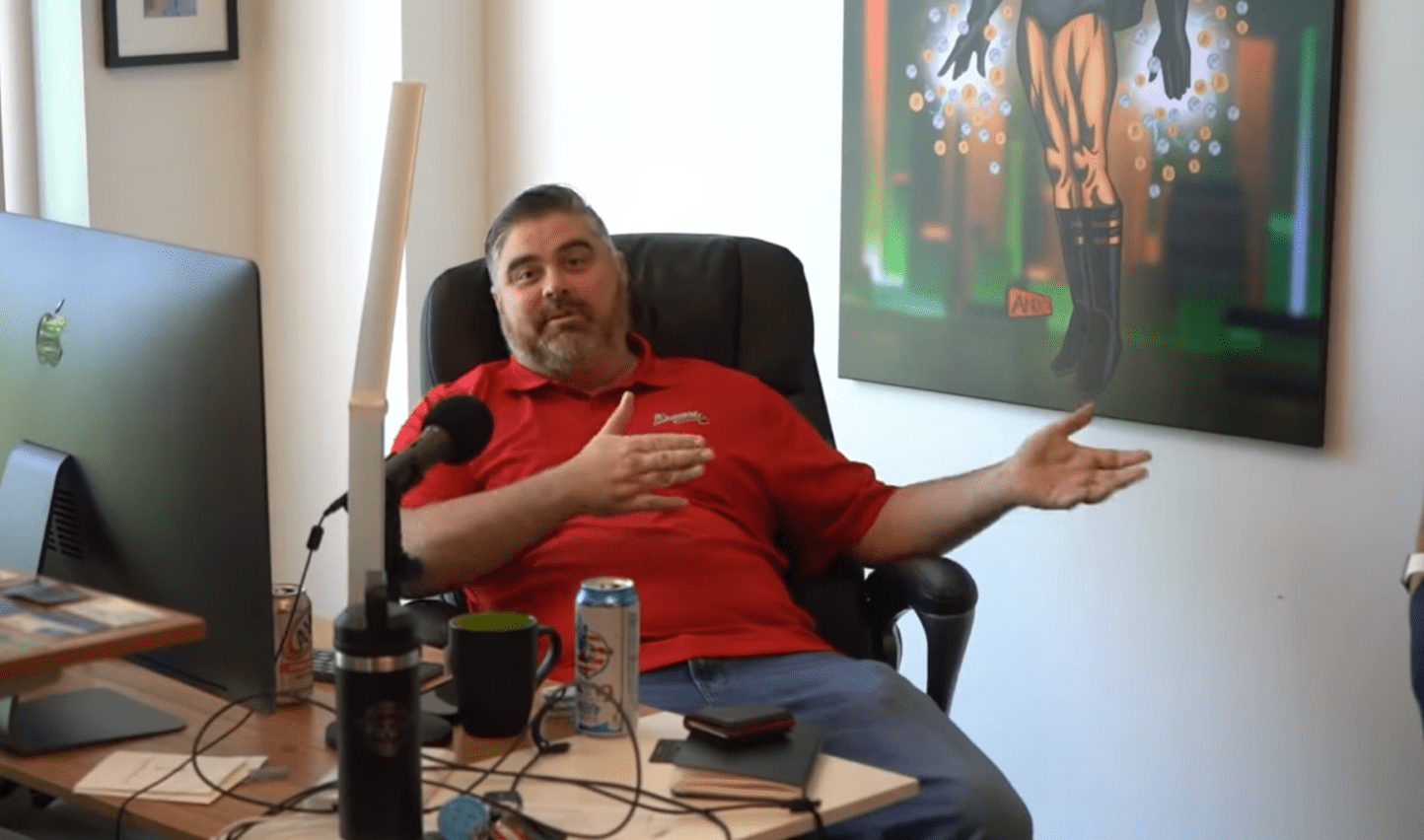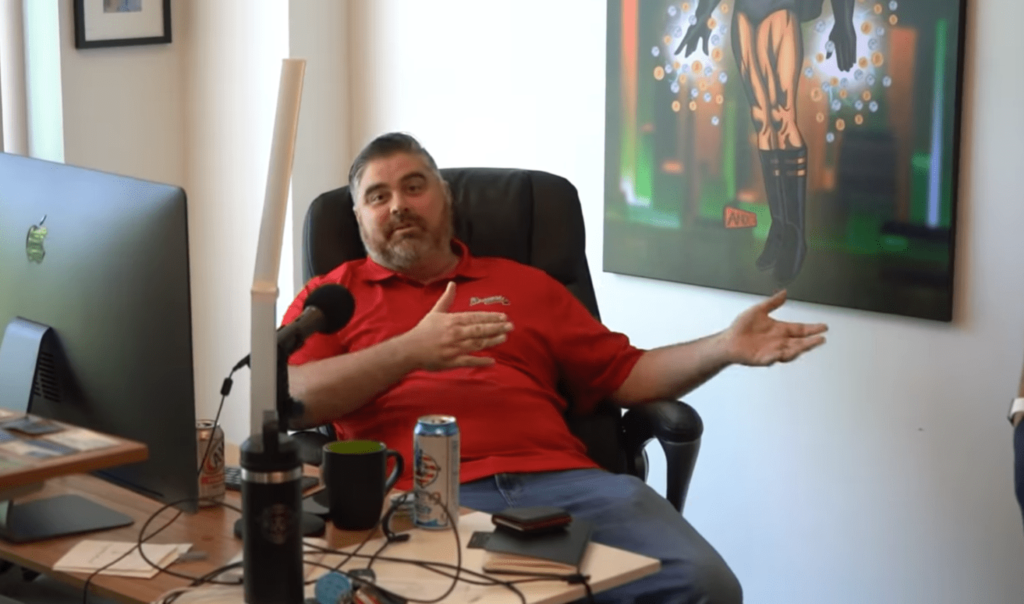 " We're a team of entrepreneurial-minded creatives that are taking the media world by storm! " – Ben Armstrong
Do you know what they say about the definition of success when it comes to influencers? 
"Show me your numbers and I'll tell you  ̶w̶h̶o̶ ̶y̶o̶u̶ ̶a̶r̶e̶ how engaged your audience is!" 
Well… nobody said that, I just made it up, but I'd like y'all to invite you to talk numbers here since Ben definitely has a saying in it!
BitBoy has amassed over 373.3K followers on Twitter as of May 2021. He promotes his latest news forecasts and interviews on the platform while also interacting with his fanbase.
BitBoy is also active on TikTok where he has over 2.7 million followers. He discusses everything there – from pop culture and current events to cryptocurrencies and commentary on everything regarding crypto and what-not from around the world. He has accumulated over 50.6M likes on the platform.
His Instagram currently has over 203K followers. 
His BitSquad Telegram Group currently has over 55880 active members. 
Impressive, ain't it?
If these numbers failed to convince you how well-engaged Ben's audience is, I don't know what will. This kind of engagement cannot be bought or faked, it clearly shows that Ben's overall expertise and insights prove to be valuable for a lot of people. The guy has been on the crypto scene for as long as I can remember, and him still being on the very frontier of the crypto movement, literally screams of how qualified and relevant the content he's providing for us is. 
"The world of crypto-investing is very intricate", according to Ben. 
Well, we couldn't agree more with such a statement, and, finishing this article, I'd like to quote Armstrong himself.

In his interview for NewsWatch, while elaborating on the question on "why he launched an educational YouTube channel on the subject of cryptocurrency in the first place", he said:
"2012 was a learning curve for me. Honestly, I thought I was going to make easy money by investing in crypto. But I quickly realized that crypto trading wasn't as easy as many people would have you believe. I have learned so much since then. And now, I want to help fellow crypto enthusiasts in their journey, sharing the mistakes I made and teaching them the fundamentals of trading." Well said, Ben. Well said.